AAT Exams for Accountants & Bookkeepers
If you've been considering taking the Association of Accounting Technicians (AAT) qualifications, you may have heard about the AAT exams (AAT Assessments). But what exactly do they involve, and how do you go about passing them? In this blog post, we'll be breaking down everything you need to know about AAT exams.
The AAT exams are a series of tests that are designed to assess your knowledge and understanding of accounting. Depending on the level you're studying for, there will be different types of exams that you must take. Each exam focusing on a different area of accounting. For example, the first level Award in Bookkeeping requires candidates to complete one assessment (Sepera Membership Students pay £70.00, without membership £90.00). At Level 4 Diploma in Professional Accounting, candidates must complete a minimum of five written examinations. More about Qualification Fees you can read at "AAT Exams & Qualifications Fees".
AAT qualifications are designed to equip students with the knowledge and skills they need to become professional accountants or bookkeepers. Taking an AAT exam requires you to work through a series of courses. Each course covers different topics related to accounting and finance. At the end of each course, there is an assessment which must be passed in order for you to move onto the next course. Once all of the courses have been completed, and all assessments have been passed, then you will receive your certification as an AAT qualified technician (bookkeeper or accountant). To book your AAT Exam please go section "AAT Exams – AAT exam Centre".
How do I Prepare for an AAT Exam?
In order to ensure success in your exam, it's important to plan ahead and give yourself plenty of time to prepare. Start by getting familiar with the topics that will be covered in your exam – your syllabus should outline these clearly. Once you have an understanding of what is expected from you, start practising sample questions and familiarising yourself with the language used in the exam. It can also help to join online study groups or forums where other students are taking their AAT exams – this way you can learn from each other and bounce ideas off one another. 
To help you prepare for your exams, there are a variety of online resources available. For example practice tests and mock exams that can help you get familiar with the type of questions that will appear in your AAT assessments.
The purchase of books also helps to broaden the knowledge and understanding of issues related to accounting and bookkeeping. Books that will help you prepare for AAT exams related to accounting and bookkeeping can be found on our website. Click here to see bookkeeping & accounting books. 
Additionally, many colleges offer classes specifically designed to help students prepare for their upcoming exams. These classes provide invaluable insight into how best to tackle each question during your assessment.
At Sepera College it is possible to study and take exams. We offer three learning methods: Webinar Courses, Online Courses, and Classroom Courses. It's up to you which learning method you prefer. You can read more about the study methods we offer for our students in a separate article "Study Methods".
On the day of your exam, it's important to arrive early (15min – 30 min before the start of the exam) so that you feel calm and collected when sitting down for your test. The new AAT Q2022 exams are conducted on a computer with one monitor. The old AQ2016 exams are carried out on computers with two monitors. 
For our and external students we have three examination centres in London, Manchester, and Opole (Poland).
Make sure that all documents required for entry (i.e., proof of identity) are included with your application form and ready for inspection by security staff in the examination room. Once inside the examination hall itself, make sure that you read through all instructions carefully before attempting any questions as this will help save time during the actual test period. 
During the test itself, make sure that all answers are answered correctly and completely. If an answer is left blank or incorrect then it will be marked as such on your final results sheet! 
During the exam, you can have blank sheets of paper to make additional calculations / notes.
Allowed are also pens, pencils, erasers, and a standard calculator (a calculator from a tablet, smartphone, or other mobile device is prohibited). No other equipment is allowed.
What is the pass mark for AAT exams?
The pass mark for AAT exams is 70% for all units.
You will be told your percentage for each assessment and will be able to resist an assessment in an attempt to improve your grade if you wish.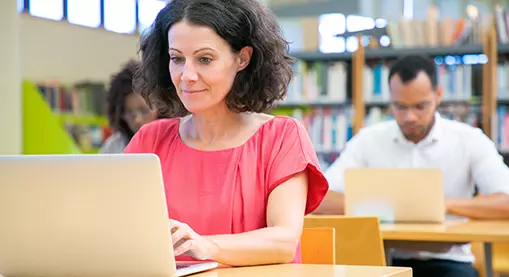 Getting Your AAT Exam Results
Results from computer-marked assessments will be available from 2 hours up to 24 hours
(for weekend exams please allow until Monday).
For all human-marked assessment, we have specific synoptic and non-synoptic result release calendars which can be found on our dedicated results page. Once your result has been released, log in to your MyAAT dashboard here to view them under 'Your Assessment Results'
Is level 4 accounting difficult to pass the exam?
The AAT Accounting Qualification is considered by many to be the most challenging of qualifications, but that doesn't mean it's impossible! With its focus on practical learning and diligent study, you can achieve success regardless of your prior experience. The online webinars we organise in Sepera College help to achieve the AAT Level 4 – Diploma in Professional Accounting.
Taking an AAT assessments can be daunting but with some preparation it doesn't have to be! 
Knowing what is expected from these exams ahead of time can give you a leg up when it comes time for taking them. Can also help you ensure success in achieving your desired qualification as a professional accountant or bookkeeper. With plenty of resources out there to help guide you along this journey. Including practice tests, mock exams and college classes – there's no reason why taking an AAT exam has to be overwhelming! So start preparing now so that when it's time for your assessment, you're ready! Good luck!